Sushi-Pro Testimonials
Bond University has had the pleasure of doing business with Sushi-Pro for several years.
We utilise a wide variety of their product portfolio not only for our five, F&B retail outlets on campus, but also for our Banquet and Conference facilities
Sushi by its own nature is considered a high risk food category in terms of HACCP, Sushi-Pro's attention to Quality Assurance and freshness of product is excellent.

Goods are delivered to Bond University on a daily basis, well packaged and always fresh.
Sushi-Pro's products are well received by our entire University community as a fresh and healthy option.




Jack Huston 
Purchasing Manager
Campus Accommodation, Dining Services and Facilities Management


---
We have been using sushi pro for 3 years now and have always found them to give great value, great service and great products.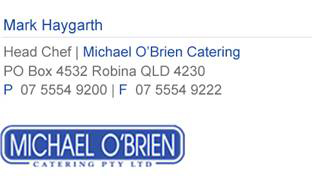 ---

Sushi Pro, are a professional Sushi business on the Gold Coast.
I, Scott Murray the Executive chef at Sky point, Observation Deck, Gold Coast have been using Sushi Pro since we opened our events function room on 8, December 2010. They have offer great service and a wonderful product. The staff are very helpful and always on time with their products.

Looking forward, with continue success.

Scott Murray
Executive chef - Sky point Restaurant – Ardent Leisure - Dreamworld
---
We just used Sushi-Pro for our school tuckshop for the first time last week and I just wanted to say how impressed I was with your service and quality. Right from the ordering process, to the delivery, it was super smooth and such a simple process. The packaging and method of delivery made ordering a breeze for me, but the best feedback was from the kids who absolutely loved your sushi. We will definitely be using Sushi-Pro for all our sushi needs and I will gladly recommend you to others. Thanks again for a great service.
Our Lady of Dolours School, Mitchelton
---

I have used Sushi Pro for a number of years and found their product to be consistent in quality, presentation and hygiene.
I have tried other companies but found sales always started to drop on sushi until I would bring back Sushi Pro Sushi. We now sell their product in two tuck-shops and serve it once a week in our boarding house. It is a great product and well-priced.

Don Clarke
Director - River City Catering Pty Ltd
Brisbane Girls Grammar School & St Margaret's Anglican Girls School Brisbane
---

Thanks a bunch Sushi-Pro for all the great service and great sushi this year. You have excelled with your service to all my orders especially the inconvenient ones, you always make me feel like they are not (even though i know they are). So thanks heaps.


Alisha Clarke

Head Chef – St Leo's Catering Brisbane

---
We Really appreciate the support of Sushi-Pro for our school fundraiser benefiting Junction Park State School at Annerley Brisbane.

Amanda Sparks
Fete Convener - Junction Park State School